Our Company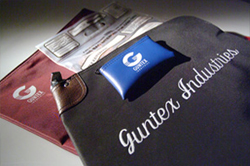 Established in 1972 as a specialty bag manufacturer, initial products were designed for banks and financial institutions. Early offerings included vinyl zipper bags, canvas shipping bags, and locking security bags.
By 1985, banks and retailers across the Southeast had discovered Guntex, and the company was becoming well-known for its vinyl zipper bag.
In 1989, Guntex expanded its offerings to include specialty bags designed for mailroom operations. The company began manufacturing nylon transit sacs for the U.S. Postal Service, and bulk mail bags were added to the product line.
In 1995, Guntex relocated to larger and more modern manufacturing facilities designed to better serve its customers. The move allowed Guntex to expand sewing operations and to fully develop its printing department.
By the year 2000, Guntex began to explore the use of tamper-evident bags in the banking industry. Shortly thereafter, Guntex introduced a full line of tamper-evident bags designed for night deposits and currency transfers.
In 2006, a host of new bag manufacturing equipment was acquired, and the company was able to further refine its ability to produce vinyl zipper bags and nylon transit sacs.
Today, the company continues to emphasize its tradition of providing an efficient response to the specialty bag needs and requirements of its valued customers.